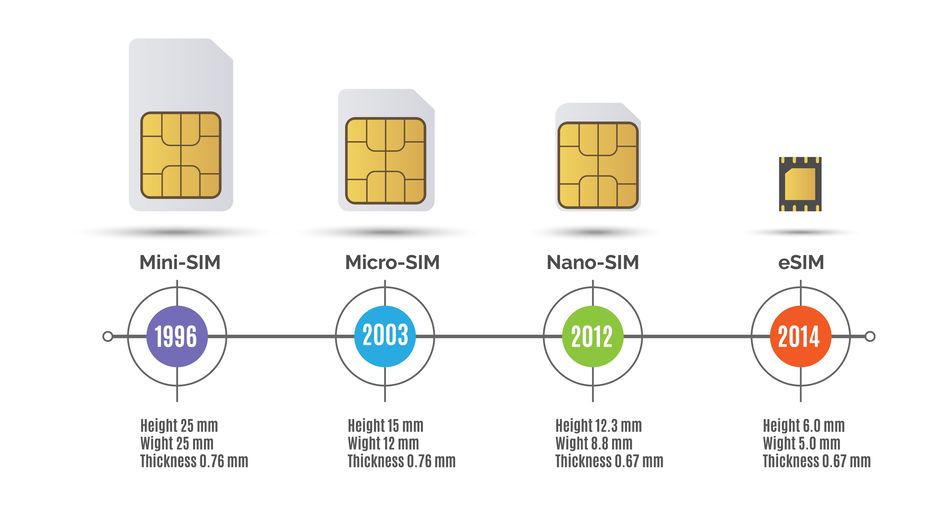 Introduction
Clients often ask "Which should I use, traditional plastic SIMs, or embedded SIMs  (eSIMs) for my IoT solution?" Our go-to answer is always, "It depends." We answer this way because it really does depend on many factors.
In this article we explore the pros and cons of both eSIMs physical SIMs for IoT projects. Not all pros and cons will have equal weight for each solution developer, but we think this is a good primer on the differences of each type of IoT SIM card.
First, let's quickly define what we are talking about. We wrote an article several years ago that spoke to the evolution of the IoT SIM card specifically relating to the evolution of the technology behind SIM cards. We talked about eUICC as an emerging tech, and we called this an "eSIM." For the purposes of this article, we are calling the embedded SIM (MFF2 form factor) an eSIM. Physical SIM cards are typically 2FF, 3FF, or 4FF form factors, but can also be enabled with eUICC tech, making them also "eSIMs."  "eSIM" refer to either a SIM with eUICC technology, or an embedded SIM, but these are very different things.
Embedded SIM (eSIM):
eSIM Pros:
Remote Provisioning: eSIMs are provisioned remotely and programmed with the necessary network credentials using bootstrap profiles. This eliminates the need for physical access to the device, and is particularly useful for IoT devices in remote or hard-to-reach locations.
Scalability: eSIMs make it easier to scale your IoT deployment because you can provision and manage a large number of devices without physically swapping SIM cards.
Reduced Physical Footprint: eSIMs are integrated into the device's hardware, saving space and allowing for more compact IoT device designs.
Improved Security: eSIMs often offer enhanced security features, such as better resistance to physical tampering and improved authentication protocols.
Flexibility: eSIMs can switch between different carrier profiles, providing flexibility and cost optimization as you can select the best network for a given location or situation. However, this requires the cooperation of both carriers which is not always a given. Many carriers will not allow these profile change-overs.
eSIM Cons:
Initial Cost: Implementing eSIM technology may require upfront investments in hardware and infrastructure for remote provisioning and management. Even the MFF2 SIM is more costly than traditional plastic SIMs.
Compatibility: Not all IoT devices are eSIM-ready, so retrofitting existing devices with eSIM capabilities can be challenging and costly.
Dependency on Manufacturers: Device manufacturers must support eSIM technology for it to be effective, and not all manufacturers do, limiting device options.
Traditional Physical SIM Cards:
Physical SIM Pros:
Widespread Compatibility: Traditional SIM cards are widely supported by most IoT devices and have been the standard for many years.
Low Initial Cost: The cost of traditional SIM cards and card readers is generally lower than implementing eSIM technology.
Interchangeability: Physical SIM cards can be easily swapped between devices, which can be useful in some situations.
Physical SIM Cons:
Physical Access Required: Changing SIM cards typically requires physical access to the device, which can be impractical for remote or deployed IoT devices.
Scalability Challenges: Managing a large number of physical SIM cards can be cumbersome, leading to logistical challenges as your IoT deployment scales.
Security Concerns: Traditional SIM cards are more susceptible to physical tampering and unauthorized removal, potentially compromising security.
Limited Network Flexibility: Switching between carriers or network profiles is more difficult with physical SIM cards, leading to potential coverage and cost inefficiencies.
The choice between eSIM technology and traditional physical SIM cards in IoT applications depends on your specific use case and requirements. eSIMs offer advantages in terms of remote management, scalability, and flexibility. Traditional SIM cards are more widely compatible and have lower initial costs. It's essential to evaluate your project's needs, device compatibility, and long-term scalability when making this decision.
If you would like to have a conversation with one of our experts, please fill out our contact form. The contact form is located here. One of our experts will be in touch within 1 business day.