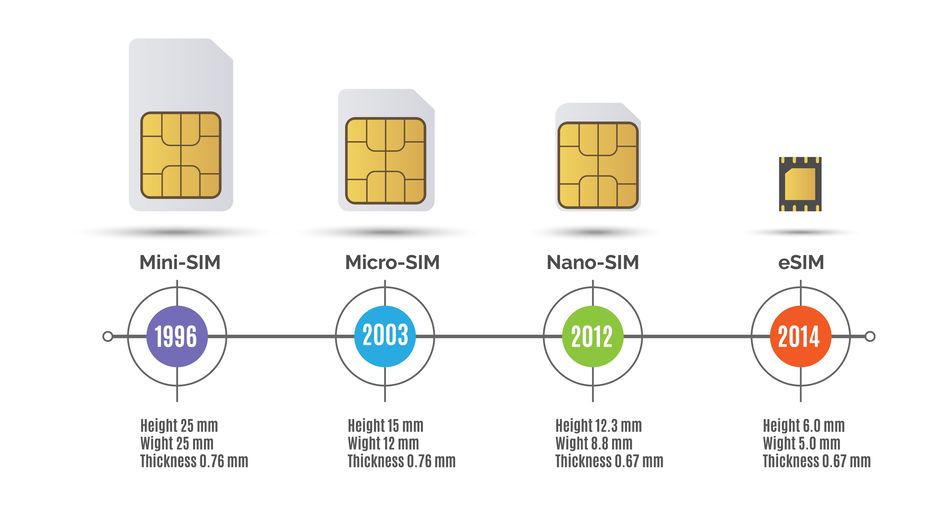 For more than 2 decades, mobile devices have been evolving technology around the world. Technology evolution has consistently grown from single profile (IMSI) sim cards to multi-IMSI sim cards. With this emergence, the footprint of the hardware has also reduced from 2FF to MFF2.
The figure above demonstrates, at a glance, the SIM card Gen's for a better understanding of its footprints.
Deploying eUICC Tech: Is it a Boon?
Because we are in an era where "needs" are being transformed, we are at a stage where everyone is connected with more than 10 end devices in day-to-day life. Thus, connectivity plays an important role where more than 20 billion devices are involved in global roaming as well as domestic deployments.
eUICC deploying practices help in easy provisioning and on-boarding new devices into the existing network. These deployments provide cost-effective connectivity including flexibility from the selection of operators to the profiles in mobile devices. These interoperable features enable startups as well as well-established manufacturers to make advancements in IoT deployments in different real-life use cases like manufacturing, roaming, pricing, platform providers, profile swapping, etc.
The eUICC (A.K.A. eSIM) technology is overall more reliable in for MNO's (Mobile Network Operators) as well as IoT device manufacturers, and a proven evolution for the rising potentials of their products and strengthens the network connectivity.
From the user's standpoint, eSim cards are longer-lasting as there is no chance of losing a sim card and far fewer chip demolishing faults. It saves time as there is no required visit to the store to buy or portability switching from one MNO to another. The process of portability becomes easier and quicker.
Provisioning: With the usage of eSim cards, the IoT devices come with built-in support of eSim thus IoT platforms enable the remote provisioning support in its network stack and therefore it becomes simpler and quicker for remote provisioning. This feature helps in communicating with the devices from anywhere in the world through simple steps of switching profiles on the mobile devices.
The amount of real estate required of traditional sim cards is now greatly reduced using minute chips embedding into the mobile devices. The complexities in replacing a sim card is also reduced and replaced by switching profiles directly; no hardware replacement is required. Thus, mechanical failures are reduced tremendously.
Because of these benefits, the OEM's and MNO's are embracing eSIM functionality and we are seeing a growing list of devices from wearables to meters to GPS devices utilizing eSIM. We expect to see this list only grow in the future.
eSIM technology enables the interoperability with respect to its profile switching feature or remote provisioning. Its remote accessibility to end devices in a secured, widespread network has decreased the number of challenges, but with these evolutions in the technology, some new-age challenges might become the barriers or the breakdown for the technology adoption.
Potential Pitfalls in Next-Gen Evolution
With newly developed SIM Card technology, there are definitely some challenges to overcome.
The IoT ecosystem is rapidly expanding in its quantity of deployments and has many diversified domains. It is overloaded with data which is shared among billions of devices. Device manufacturers must increase the SIM hardware reliability since the minute chip is, for all practical purposes, impossible to remove, while playing a critical role in network connectivity.
Although in theory with eSIM sounds like it would be simple to switch MNO's as mentioned above, there are a series of steps that are required for this to happen, and some MNO's are resisting eSIM. As an example of this resistance, there was a widely reported investigation by the Department of Justice in the USA that looked into possible collusion between the 2 largest carriers AT&T and Verizon and their resistance to eSIM tech in the consumer handset space. Therefore, there are complications when it comes to the practical vs. the theoretical benefits of switching providers.
Another impediment to eSIM adoption is the cost and availability of devices using this standard. While the eSIM itself is more reliable than a standard SIM, the cost per SIM is still slightly more expensive than the traditional SIM. In a very cost-conscience environment, this difference may be too severe to justify adoption. The selection of devices available with eSIM is also not as robust as those which rely on traditional SIM form factors. One solution we are seeing some OEMs move forward with is a hybrid IoT device with both traditional SIM and eSIM availability
Finally, Technology Consortiums must standardize the formats and technological implementations for bringing this technology forward and getting IoT OEM's, and MNO's on the same page.
OneSimCard M2M works with many leading GPS and Telematics providers all over the world. Our international mobile cellular connectivity solutions enable fleet software and hardware solutions companies quickly scale by providing a single portal, a single APN for all of their devices, and multi-IMSI SIM cards, including eUICC capability, with access to multiple networks in most countries. If you are curious about our solution and would like to learn more, please contact us at sales@onesimcard.com or call us at +1 617-313-8888.