Wialon / Gurtam Certification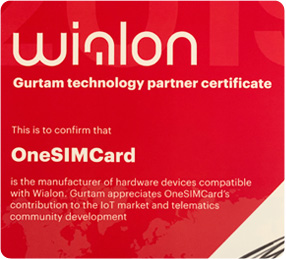 Gurtam, a leader in GPS tracking software development with over 2,000,000 devices running on its Wialon platform, recognized OneSimCard M2M for our contribution to the GPS and Telematics Community. OneSimCard provides global connectivity to hundreds of thousands of customers' devices all over the world.
We work with the IoT community to establish a reliable, consistent and easily managed IoT solution for our customers, Gurtam acknowledges that contribution and we are grateful to them for this recognition.
---
© 2006-2023 Belmont Telecom Inc., DBA OneSimCard.com. All rights reserved