1SIM IoT App – Manage Your SIM Cards On The Go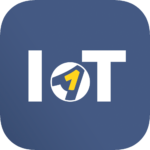 The OneSimCard IoT app enables you to get access to the most important functions of the OneSimCard OSCAR management platform virtually anywhere you have connectivity on your mobile device or tablet.
Whether your solution is for GPS (asset tracking, fleet management, people tracking, etc.), wearables, Smart meters/Smart City, Smart Home or any other Internet of Things/Machine to Machine application, you can easily manage all of your mobile IoT / M2M devices with the app.
The 1Sim IOT app gives you with real time information about all active, blocked or deactivated SIM cards, network registration/connectivity status, and the current data and SMS use records. It also allows you to reconnect the device to the network if required, as well as 2-way communication to the device using Portal SMS option, which keeps logs of all sent commands to, and replies from, the device including the APN settings.
The app provides access to each SIM card /device, set the monthly spending limit for the SIM, block/unblock mobile data, view the amount of data used in the billing cycle anywhere, anytime your mobile device is connected to the internet.
You can create separate logins for account administrators to share or to limit various account access functions. The in-app help tools provide quick access to troubleshooting and customer support.